HOW FAR YOU HAVE COME, BEING OF THE LIGHT. OUR OWN LIGHT WILL SWALLOW YOU. COME, MEET YOUR FATE. - the centrepiece of the Lights before the battle
---
The Lights is one of the eight Creatures of the Relic, and the boss the young seedling faces in Woshad. Unlike the other bosses in Seedling, fighting the Lights is optional.
Physical appearance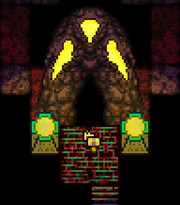 All components of the Lights are golden in colour. The main centrepiece has a flat bottom and is round at the top. There is a yellow circle in the middle of the centrepiece, surrounded by darkness. A small hole can also be seen at the top of the centrepiece.
The other Lights are teardrop shaped, with a small gap near the larger end of them. This gap holds a lighter yellow circle, which opens and closes as the Lights travel around the place.
Accessibility
The Lights are found in Woshad, and visiting the building which they are in is optional for the player. After obtaining a gold key, the player can unlock the entrance to a house at the far left of Woshad. When they enter, the young seedling can continue forward until he falls down a hole and lands in a small confined area where the centrepiece of the Lights is seen. The Watcher stands on the bottom left corner of the screen.
Attacks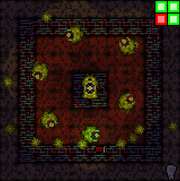 Pressing the X button when in front of the centrepiece will wake up the Lights. After presenting a monologue to the player, the centrepiece will send out the other lights, who will come and swarm around the area, weaving in and out towards the centrepiece. At the same time, they attack by firing bullets which look similar to the yellow bombs fired from the darkness in certain areas of Woshad.
Any contact with the moving lights hurts the seedling, and forces the player to restart the boss fight again if the young seedling loses all his health.
Strategies
To defeat the Lights, the player must get the seedling to hit all the moving lights that swarm around him. Staying close to the centrepiece, the seedling can use the Ghost Spear or dark sword to hit each of the moving lights while avoiding most of the lights' shooting attacks.
After three out of the six moving lights are destroyed, they will proceed to close in on the young seedling and move at a faster pace. With less of the moving lights attacking the player, the young seedling can now dash around the area, attacking the lights with the player's weapon of choice. Destroying all the moving lights also destroys the centrepiece. A purple portal opens once the Lights is killed, allowing the player to exit Woshad.