Enough Plumbers
  Information
Link:
Pixel Love
Released:
Newgrounds
May 2, 2010
Featured:
December 3, 2012
Platform
Flash
Control scheme:
Keyboard
No. of levels:
25
Data saved:
Levels
Genre(s):
Puzzle, Platform
Website(s):
Newgrounds
Related games
Enough Plumbers 2
Credits
Game development
Glen Forrester
Arthur Lee
Enough Plumbers is a puzzle-platformer created by Glen Forrester and Arthur Lee. It was featured on Pixel Love on December 3, 2012. The player controls a given number of plumbers and has to guide at least one of them to the designated goal flag.
Controls
Levels
This section is incomplete. You can help Nitrome Pixel Love Wiki by adding missing information!
Enough Plumbers has twenty-five levels. Each requires the player to make use of the plumber or plumbers to ultimately reach the goal flag.
Level 25
Click [show] to view this video
Ending
This navigational box contains a

spoiler

. Click [show] to open.
---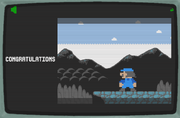 The camera pans up a grey building and stops on a single plumber standing at the top. He gazes out at the view with mountains and a sky with small clouds that move to the left. To the left of the scene are the words "congratulations" in block letters. The configuration icons still appear on the top corners of the screen, allowing the player to return to the startup screen.
Enemies
Hazards
Soundtrack
External links
Community content is available under
CC-BY-SA
unless otherwise noted.