Crayon Poke
  Information
Link:
Pixel Love
Developer
Raiyumi
Released:
May 8, 2015
Featured:
May 11, 2015
Platform
Flash
Control scheme:
Keyboard
Data saved:
Current progress
Genre(s):
Metroidvania
Website(s):
Newgrounds
Credits
Programming/art
Raiyumi
Music
Potato-tan
Crayon Poke is an exploration platformer created by Raiyumi and released on Newgrounds on May 8, 2015. It was featured on Pixel Love on May 11, 2015. The game was originally created in 72 hours as a Ludum Dare entry for the theme "An Unconventional Weapon".
Controls
Left and right arrow keys - Move
S key - Jump
D key - Throw a crayon (requires powerup)
Gameplay
The player traverses a vast area with doors leading to various rooms. "Knowledge" can be obtained in a couple of rooms to increase accessibility to other areas.
Secrets
Four secrets can be found in the game and require one or both of the powerups to collect. Secrets appear in the form of a gem and will be reset if the player dies before touching a save point.
Enemies
Pigs - Enemies that run towards the protagonist until they hit the end of one side. They will eat crayons.
Interactive objects
Hazards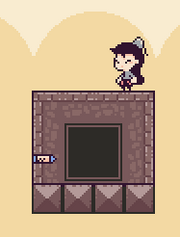 Spikes - Pointy objects that cover areas of the ground and kill the protagonist on contact.
Water - Kills the protagonist upon landing on it.
Soundtrack
Crayon Poke has one music track that plays over the game. The titlescreen has no music.
Glitches
If the player fires a crayon right next to a wall, the crayon may end up going inside the wall. Multiple crayons fired afterwards can sometimes pile up inside the block rather than sticking to the outer surface.
External links
Community content is available under
CC-BY-SA
unless otherwise noted.