Cat Astro Phi
  Information
Link:
Pixel Love
Developer
Photon Storm
Released:
Newgrounds
December 8, 2010
Featured:
November 12, 2012[1]
Platform
Flash
Control scheme:
Keyboard
No. of levels:
3
Data saved:
Levels (stages)
Genre(s):
Adventure
Website(s):
Newgrounds
Awards:
Newgrounds Daily 4th place, December 9, 2010
Credits
Code/Game Design/SFX
Rich Davey
---
Pixels
Ilija Melentijevic
---
Music
Rich Vreeland (Disasterpeace)
Cat Astro Phi is an action-adventure game created by Photon Storm and uploaded on Newgrounds on December 8, 2010. It was featured on Pixel Love the Monday of November 12, 2012. The game follows the journeys of a spaceman and his cat, Jonesy, through space.
Controls
Arrow keys - Move
Space/Ctrl - Shoot
Levels
Cat Astro Phi's levels are designated as planets. The levels start with the spaceman and Jonesy traveling through an asteroid field in their spaceship. As the player attempts to destroy all the asteroids, they will soon be hit with too many, causing the ship to lose power and Jonesy to be ejected from the ship's seat onto an oncoming planet.
Planet 1: Rarnaxx
Planet 2: Craggzom
Planet 3: Shordeth
Ending
This navigational box contains a

spoiler

. Click [show] to open.
---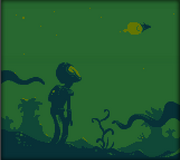 Entering the asteroid storm for the fourth time, the spaceman is ejected out of his seat instead of Jonesy and lands on Planet Minsmeet. The ending shows a picture of the spaceman watching his cat fly off into outer space while he looks from below. Text scrolls from below the picture to show the credits, stats and reveal some additional facts about the development of Cat Astro Phi.
Notes
↑ According to Nitrome's Facebook page, Cat Astro Phi was featured on November 12. Their blog post, however, shows that it was featured on December 4.
External links
Community content is available under
CC-BY-SA
unless otherwise noted.